Creativity
Beaded Barrette Originals
Purples Catalog Page
I use high quality Japanese glass seed beads in my beadwork,
along with genuine semi-precious stones within the design.
Each barrette is backed with ultrasuede, (which helps keep
the barrette from slipping) and finished with a professional beaded
edging. Each is my own original design.
View Shopping Cart / Checkout
"Shades of Purple" Barrette
with genuine Amethyst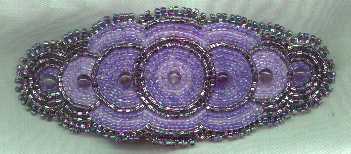 A beautiful blending of shades of purple seed beads surround
the (7) genuine 4mm amethyst beads used within the design.

Size: 4 1/2" x 2"
Size of barrette finding: 2 1/2" hair clasp area

Barrette Design copyright © 1999 Marshall

Price: $35.99
Product ID: 9951-B
Product Name: "Shades of Purple" Barrette
To order by credit card, click here: Add to Cart
[Back to Catalog Choices]
| | |
| --- | --- |
| | CCNow is the Authorized Online Retailer for credit card purchases of items on this page. |